Our Programmes in West Yorkshire

What are Generation Medics doing in West Yorkshire?
We're working on a number of projects to improve employability, promote local recruitment and improve health outcomes for residents of West Yorkshire.
Our dedicated team are working with different age ranges, in different regions to carry out the mission at the heart of our social enterprise: to help people from all backgrounds to access fulfilling medical and healthcare career opportunities.
Bradford Anchor Programme
Our Bradford programme is aimed at young people at state-schools who are aged 13-19 years old. 
Want to know more? Click the button below 👇🏽👇🏽
Bradford Adults Programme
Our Bradford Adults programme is aimed at adults aged 17+ who are unemployed and looking for work. 
Want to know more? Click the button below 👇🏽👇🏽
Tina Lafferty – Programme Director for Employment and Skills at Bradford Council
Paul Kilgallon – Business Development and Relationship Manager at The School for Social Entrepreneurs UK
Joanne Smith – Clinical Lead for Volunteer to Career at Bradford District Care NHS Foundation Trust
🔍 Sneak Peak: What's Involved in Some of Our Programmes

Virtual Healthcare Academy
Our virtual platform offers you tailored information,  resources and roadmaps to help you explore, enter and succeed in health and social care roles. Take your first step to a career in the NHS or wider health and social care sector by signing up today!
Immersive Digital Work Experience
Our immersive Virtual Work Experience Programme Is delivered in partnership with the NHS. It's a proactive step-by-step introduction to the health and social care sector (including clinical and non-clinical roles) that is useful for you to highlight on your CV and at interview. 
It provides opportunity for you to reflect on what's covered to deepen learning, bolster future applications and provide better patient care when you're successfully in post.
People who have taken part have said that it helped with the big jump experienced when you first join a new role in health and social care because it helps build familiarity and makes the job, team and environment feel less daunting.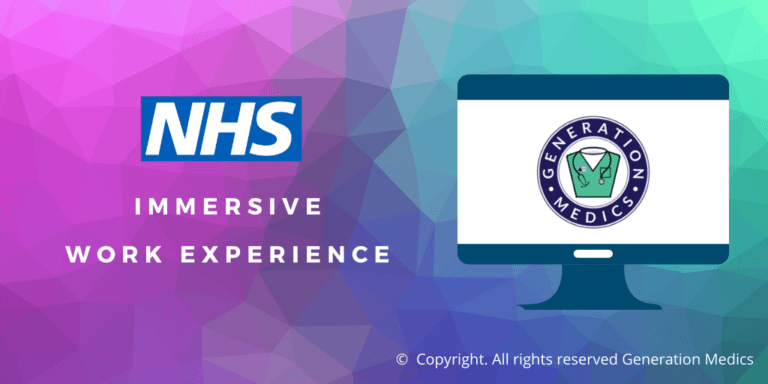 Interested in joining the Generation Medics team as a volunteer?
Want to get involved with inspiring the next generation?
Non-Healthcare Professionals
Want to help out at events and make a positive impact? 
Please complete our contact form with the message title: West Yorkshire Volunteer