Health Work Experience Project
It's not easy to get work experience that'll help you understand what it's really like to work in Health in the UK. It's even harder to make sure you're getting the maximum from any experience you do get. That's why we created the Health Work Experience Project.
---
This project will help you gather experiences, insights, and skills that are valuable to you in the future and it'll help you to stand out from others!
Once you've completed the project and submitted your work to us, we'll give you a certificate that you can use for your application. If your project is really good it might get a special award from our reviewers too!! 
---
If you're a young person wanting to discover more about a career in health, head to our 'Aspiring Health Professionals (Yrs 9 -11) page ' or our 'Post-GCSE students page' for more information.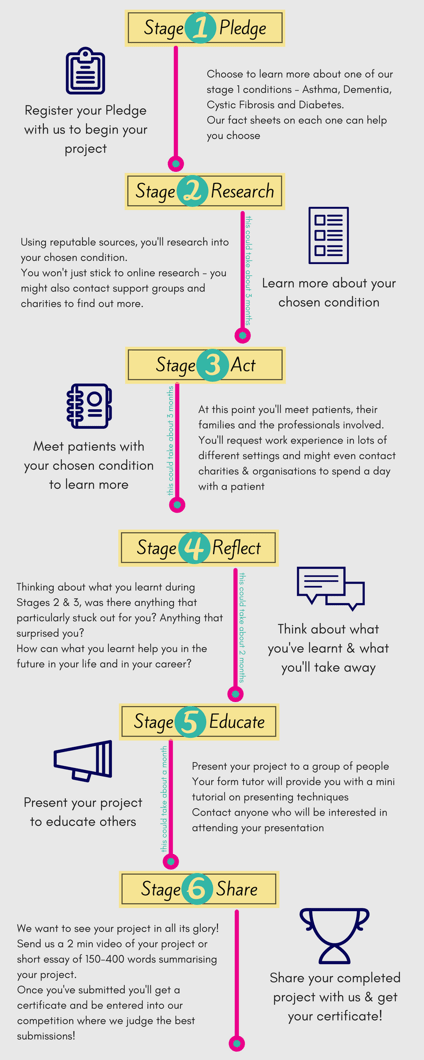 How does it work?
There are 6 stages to complete before you can submit your project to us! The timeline on the right walks you through each stage.
The first thing you'll need to do is sign up to take part & pay an admin fee so that you can access our special Project area where you'll be supported through each stage. Then to begin the project you'll need to pick a condition to pledge and get started!
What are the benefits?
You'll increase your knowledge of Medicine and Health

Get valuable work experience in a variety of settings

Pursue your interests in a way that'll help you stand out from other applicants

Gain new skills and experience in things like research and presentations

Increase awareness of medical conditions in society

Use this project to support your university application and for applications in different specialties once qualified.
The Health Work Experience Project was formerly called the 'Dream Big Project'. Here's a video explaining a bit more about how it works
The Health Work Experience project (formerly Dream Big Project)