Health Work Experience Project
Our team here at Generation Medics created the Health Work Experience Project to help young people get experience, insight and skills that are valuable to their future career.
We did this because we know it's not easy to get work experience, to make sure that you're making the most of what you do have and crucially to stand out from others!
How does it work?
The project is simple, there's 6 stages to complete before you can submit for a certificate of completion. The timeline on the right walks you through each stage.
To begin the project pay the administration fee to get access to the course on our site, then choose your pledge condition and get started!
Periodically throughout the year, groups of medics will come together to review the submissions and award the best with special certificates & opportunities for publishing! You'll be able to see the deadline for the next review when you get started on the project.
What are the benefits?
– Increase your knowledge by pursuing your interests
– Carry out independent research using our structured system
– Get valuable work experience in a variety of settings
– Use this project to support your application form to Medical School and for training posts as a junior doctor
– Cause action by volunteering to a worthwhile cause
– Increase awareness of medical conditions in society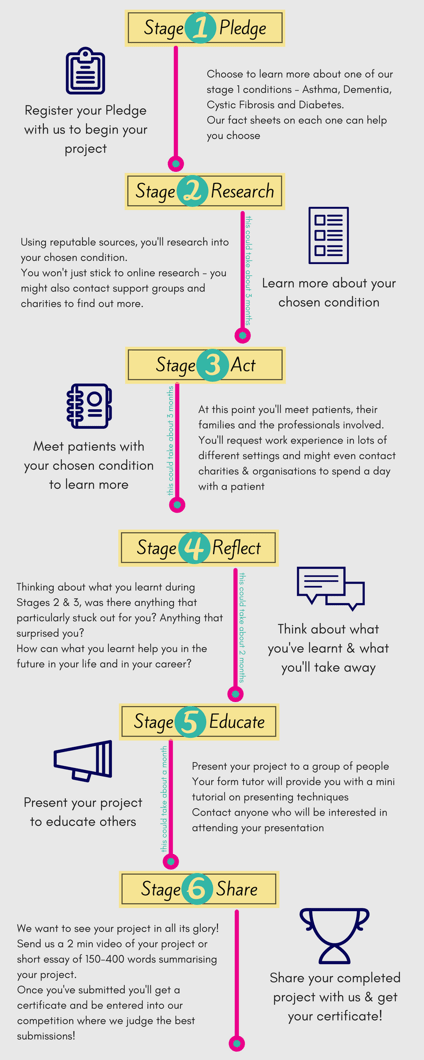 What is the Health Work Experience Project?
We created the Health Work Experience Project to help young aspiring medics and health professionals get the experience they need before entering higher education. The project is aimed at students in particular who have expressed a key interest in following the medical or healthcare route. It compromises of four stages which will end in you receiving an accredited certificate to showcase for your participation.
Learn more about a health condition
Build on your university application
Gain valuable career insights
Does this sound like something you'd like to get involved with?
Getting started
Where do I begin?
First things first, you need to download your pledge form, fill it in and send it back to us. Once you've completed the pledge form you'll also need to pay a small admin fee, so our handy team can carry on supporting and helping you.
Well done you're officially a member of the Health Work Experience project!
You just need to follow each of the steps shown below to complete it!
To give you an idea of how long the project takes to complete, have a look at the health work experience project timeline
The Health Work Experience Project was formerly called the 'Dream Big Project'. Below is a video explaining all you need to know about the project. Watch this for a clear understanding of what we will expect of you!
The Health Work Experience project (formerly Dream Big Project)