We are transforming healthcare by building an empowered and engaged community of talent
We have helped individuals all over the UK and further afield to realise their potential 💫
Hear from Romoluwa,
an aspiring medic from London ✨
Liv found the uni degree + career she wanted thanks to our Virtual Healthcare Careers Academy and support programme 🤩
I always knew that I wanted to work in healthcare but didn't know what I wanted to do
My parents work hard but didn't go to university and didn't understand the options available during and after I leave school
I was fortunate to take part in a club run by Generation Medics at my school when I was in Year 9, attended their national conference when I was in Year 10 and had a mentor to help me plan out my future
With access to the wonderful supportive team at Generation Medics, their resources and online platform I have looked into lots of careers and now know what I'm going to do and how to get there. I also feel like I have joined a big family of people who want to help each other succeed - I love it!
I was the first in my family - and the first on my street - to go to uni, so I have first-hand experience of overcoming barriers to enter a healthcare career. I can relate to the young people and adults I'm supporting through Generation Medics and I love volunteering here. The difference I'm making is not abstract - I see it with my own eyes.
It's not just students and participants who love our programmes, teachers do too 🚀
Darcy knows how to get into hear dream nursing career thanks to our programme 💫
Proven track-record of impact
Trusted advisors to thousands of students

100% recommendation rate from teachers
At Generation Medics we work hard to offer opportunities for people from all backgrounds – particularly those from underrepresented communities including:
Young carers
People with mental health or behavioural issues
People with learning disabilities
Children in care and care-leavers
Children and families from low-income homes
Black, Asian and Minority Ethnic communities
Adults experiencing homelessness
Refugees and asylum seekers
Ex-offenders and those at-risk of moving into crime
Traveller communities
Browse our wide range of success stories to see how we've helped develop a world where people from all social backgrounds, facing numerous barriers to achieving their potential can be empowered and engaged to explore careers in healthcare and thrive in them.
Hear from Generation Medics' director
Hear from more of our community
Thalia
Lucie
Eni
Maanshika
Tawfik
Thalia
"I found Generation Medics as I was looking at different programs that would help me with any questions I had in regards to Medicine. Generation Medics has definitely helped improve my confidence in applying to Medicine."


Like many people, the COVID-19 pandemic dashed Thalia's chances of taking part in valuable hospital work experience. This challenge, however, has encouraged Thalia to stretch herself in other ways, by taking part in our ecourses to learn new skills, attending our members talks, participating in discussions with our vibrant community and learning more about what a career in medicine involves and how to get there. 


Thalia joined Generation Medics reassured by the ability to ask any questions about her career with people who are in the loop. After sharing her experiences with lots of other students in our community, Thalia's been able to refine and question her medical school choices, prompting other students to also consider their options and find out how other people study and prepare for their UCAT/BMAT exams!
Lucie
Eni
Maanshika
Tawfik
I think that projects like these encourage and enable children to achieve their dreams, especially those who would otherwise lack support and guidance.
The initiative behind this program is excellent, and personally, as a student, it is not often that I come across a course like this, which makes medicine a much more accessible field for all.
Sanya, 17 yrs old
For as long as I could remember I have wanted to be a midwife so your support to understand what they do and how to become one is really important. I think that a project like this is needed because so many people don't know what jobs are really in the NHS and so don't see it as a job option but I think that it would encourage a new generation of NHS workers.
Tabatha, 17 yrs old
Programs such as these allow for true engagement within the field and are the cohesive mediums that help supply the next generation of budding enthusiasts and future pillars of the industry. 
Providing that first hand experience can motivate, inspire and ignite passion that many had not even been aware of or understood to its real degree. It also undoubtedly has helped many people, such as myself, ratify their current interest in further pursuing a career within the field.
Andrei, 17 yrs old
Hear about our events from a student and teacher
Scholarship programme review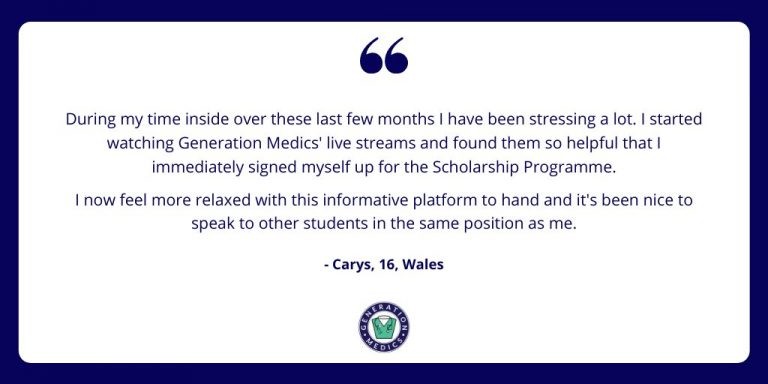 We'd love to talk about how Generation Medics can help you