Generation Medics has helped students up and down the country to realise their potential. See for yourself how these students have benefitted!
Proven track-record of impact
Trusted advisors to thousands of students

100% recommendation rate from teachers
Hear from Generation Medics' director
Hear from some of our amazing students
Jamie's interest in health was clear, from the start of the programme. He expressed his interest in working in the Gastrointestinal department and becoming a medical consultant, however, his reluctance to get involved in discussions was noticed by our mentors.
Jamie has a Gastrointestinal health condition that is challenging even for adults to come to terms with.
Prior to taking part in our mentoring programme he only had two friends who were aware of his medical condition and was socially withdrawn from his peers.
"I wanted to come to the mentoring so I could learn new things about health careers and how I can get into them"
The one-to-one sessions really helped Jamie as he had the opportunity to receive individual guidance about his future career prospects.
After a few weeks, Jamie's teachers reported that he had begun to be more engaged in class. He reported an increase in confidence and felt able to share with a group of his peers that he had a medical condition – given that he hadn't even shared his medical condition with his closest friends, this was a massive step forward.
As the programme continued, so did Jamie's progress
During one of the final sessions, Jamie shared full details of his medical condition with a group of his peers. It was great to see how comfortable and confident Jamie felt in himself. He was even able to show support towards another member of the group who suffered from a different, rare medical condition.
Jamie's key achievement was being able to open up. Prior to the programme he hadn't even uttered the word 'colostomy' or 'stoma' in school.
His ability to access one-to-one support and a supportive community led to Jamie's increased confidence, an attribute which will help him as he explores his future options and continues in his school career!
Amira* is a refugee in her mid-twenties who has been living in the UK for 14 months. She arrived in the UK during a particularly turbulent time. 
"We arrived and 2 months later everything was locked down because of COVID-19 so we haven't had many opportunities since being here."
COVID-19 has seen many industries suffer and workplaces close their doors for good, restricting opportunities for a lot of job-seekers.
When Amira was younger she wanted to be an electrical engineer, but with recent health problems in her family, she has more recently been exposed to nursing roles, gaining an insight into career opportunities she could see herself in.
Amira heard about our adult support programme and applied as she wanted support to help her  find a career path that will fulfil her. Her experience of the level of care in the NHS made her interested in Generation Medics.
"When I applied to join Generation Medics, I didn't realise it would be as good as it is. There is so much information and so much advice available." 
"I enjoy using it because it's not like other websites – it's easy to use, there's a lot to do and it's fun!".
Amira has spent hours completing e-courses, reading blogs and taking part in activities that have further cemented her interest in nursing and we're helping her to create an action plan so that she can reach her goal and fulfil her potential as a fantastic healthcare professional
!
We can't wait to see what she does next!
Thalia
"I found Generation Medics as I was looking at different programs that would help me with any questions I had in regards to Medicine. Generation Medics has definitely helped improve my confidence in applying to Medicine."
Like many people, the COVID-19 pandemic dashed Thalia's chances of taking part in valuable hospital work experience. This challenge, however, has encouraged Thalia to stretch herself in other ways, by taking part in our ecourses to learn new skills, attending our members talks, participating in discussions with our vibrant community and learning more about what a career in medicine involves and how to get there. 
Thalia joined Generation Medics reassured by the ability to ask any questions about her career with people who are in the loop. After sharing her experiences with lots of other students in our community, Thalia's been able to refine and question her medical school choices, prompting other students to also consider their options and find out how other people study and prepare for their UCAT/BMAT exams!
Lucie
Eni
Maanshika
Tawfik
For as long as I could remember I have wanted to be a midwife so your support to understand what they do and how to become one is really important. I think that a project like this is needed because so many people don't know what jobs are really in the NHS and so don't see it as a job option but I think that it would encourage a new generation of NHS workers.
Hear about our events from a student and teacher
Programs such as these allow for true engagement within the field and are the cohesive mediums that help supply the next generation of budding enthusiasts and future pillars of the industry. 
Providing that first hand experience can motivate, inspire and ignite passion that many had not even been aware of or understood to its real degree. It also undoubtedly has helped many people, such as myself, ratify their current interest in further pursuing a career within the field.
Andrei, 17 yrs old
I think that projects like these encourage and enable children to achieve their dreams, especially those who would otherwise lack support and guidance.
The initiative behind this program is excellent, and personally, as a student, it is not often that I come across a course like this, which makes medicine a much more accessible field for all.
Sanya, 17 yrs old
"I believe that Generation Medics can help bridge gaps in medical information for students from low income families, like me."
Shawn, 16 yrs old
"I think that the programmes that Generation Medics offer could help me to see what working in healthcare would be like and what I would need to do to get there."
Sophie, 15 yrs old
"I believe there should be projects like this to give students like me an opportunity to further their knowledge in the healthcare field for their future careers."
Freddie, 14 yrs old
"I think the availability of these types of projects allows younger people to get a true and practical insight into the careers they want to pursue."
Alex, 15 yrs old
"I have always been interested in the NHS and healthcare but can't find loads of information about the different roles within it so I think this course would really open my eyes to the opportunities"
Kyla, 14 yrs old
Scholarship programme review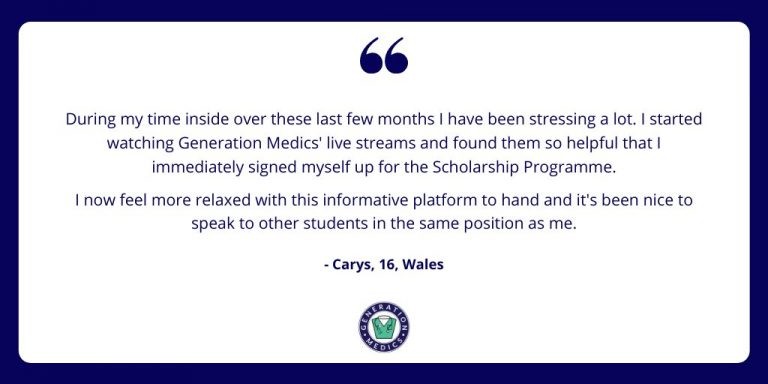 We'd love to talk about how Generation Medics can help you