Our award-winning programmes support over 8,000 young people and adults every year
Generation Medics is the leading social enterprise driving social mobility in the NHS and wider health, social care and life-sciences sector across the UK
Our award-winning programmes support over 8,000 young people and 600 adults every year, working with many organisations, companies and councils across the UK; through workshops, masterclasses, mentoring and work experience.
Every day we see the impact of this work, and the life changing effect our work has on thousands of talented individuals each year.
no. of years we've been established:
people who have taken part in our programmes
no. of employers we work with
"I believe that Generation Medics can help bridge gaps in medical information for students from low income families, like me."
Shawn, 16 yrs old
"I think that the programmes that Generation Medics offer could help me to see what working in healthcare would be like and what I would need to do to get there."
Sophie, 15 yrs old
"I believe there should be projects like this to give students like me an opportunity to further their knowledge in the healthcare field for their future careers."
Freddie, 14 yrs old
"I think the availability of these types of projects allows younger people to get a true and practical insight into the careers they want to pursue."
Alex, 15 yrs old
"I have always been interested in the NHS and healthcare but can't find loads of information about the different roles within it so I think this course would really open my eyes to the opportunities"
Kyla, 14 yrs old
In 2021 we ran programmes for several employer groups, including the NHS, social care employers, third-sector, Biotech/HealthTech, STEM and life-sciences and saw exceptionally high completion rates on our programmes, with our young people and adults committed to personal and professional development and success.
Below is a snapshot of the impact from our work experience programme:
employee volunteers supporting the programme
year 12 work experience completion rate:
students enrolled on skills building programmes:
The benefits to our candidates
Our young people and adults tell us that without our support they would not have the confidence, the opportunities and skills development that our programmes and placements provide.
Alumni of our programmes are now working as professionals in roles across the UK and internationally. Their job titles include Dental Nurse, Associate Directors, Data Analyst, Healthcare Assistant, Adult Nurse, Pharmacy Assistant, Crisis Support Worker, Porters, Doctor, Occupational Therapist, Paramedic, Programme Manager and many more.
For as long as I could remember I have wanted to be a midwife so your support to understand what they do and how to become one is really important. I think that a project like this is needed because so many people don't know what jobs are really in the NHS and so don't see it as a job option but I think that it would encourage a new generation of NHS workers.
Tabatha, 17 yrs old
The benefits to communities
Our young people and adults are more likely to be 'furthest from the labour market', after taking part in our programmes they are more likely to believe that they can succeed in education, employment and training.
Working with partners in local communities we empower local people to fulfil their potential. Which improves not just their own lives, but that of their families, neighbours and wider local community.
number of local community partners we work with
of participants felt more confident about their future career plans after taking part
no of participants in education, employment or training after our programme
Generation Medics work with individuals from an extensive range of backgrounds, particularly those from underrepresented communities
including:

Young carers
People with mental health or behavioural issues
People with learning disabilities
Children in care and care-leavers
Children and families from low-income homes
Black, Asian and Minority Ethnic communities
Adults experiencing homelessness
Refugees and asylum seekers
Ex-offenders and those at-risk of moving into crime
Traveller communities
Hear from one of our Scholarship Students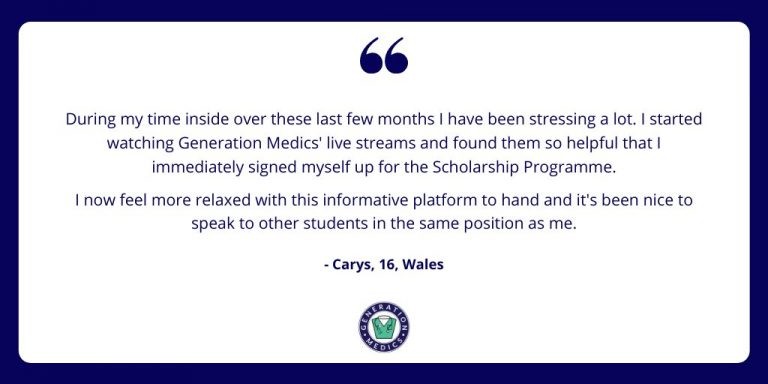 Learn more about how we can help you